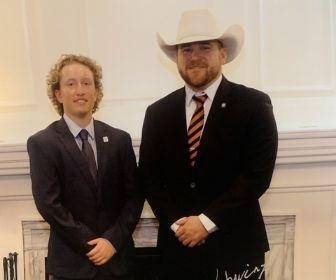 \r\n
Congratulations to MacArthur High School junior Hudson Herring for getting the chance to work as a Page at the Oklahoma House of Representatives. He worked directly with State Representative Trey Caldwell two weeks ago running errands, taking part in mock legislative sessions and learning first-hand what goes into running a state government.
\r\n
Hudson has known Representative Caldwell for some time, and it was Caldwell who suggested Herring apply for the position as a Page.
\r\n
"He had told me that I should think about applying for it and I thought it would benefit me in the future" Herring said. "The expectations were not anything like what the reality was when I was up there."
\r\n
Herring's time at the state Capitol was full of new experiences and lessons about how legislators work for citizens.
\r\n
"One of the most important things I realized being there on the House floor was that all of the good things happening in our State are rarely heard about and that's a shame," Herring said. "In a world where things have turned so negative, you would think the news would cover more of the positive things going on too."
\r\n
Now that he's worked with the State House, Herring hopes to be able to page for the State Senate next time, if possible. After school, he plans on attending Oklahoma Baptist University before moving on to chiropractic school in order to open his own business.